So you might wonder, how do I even begin? Don't worry, we got you! Let us show you how we can help you create more videos, in less time to fill your social media content calendar.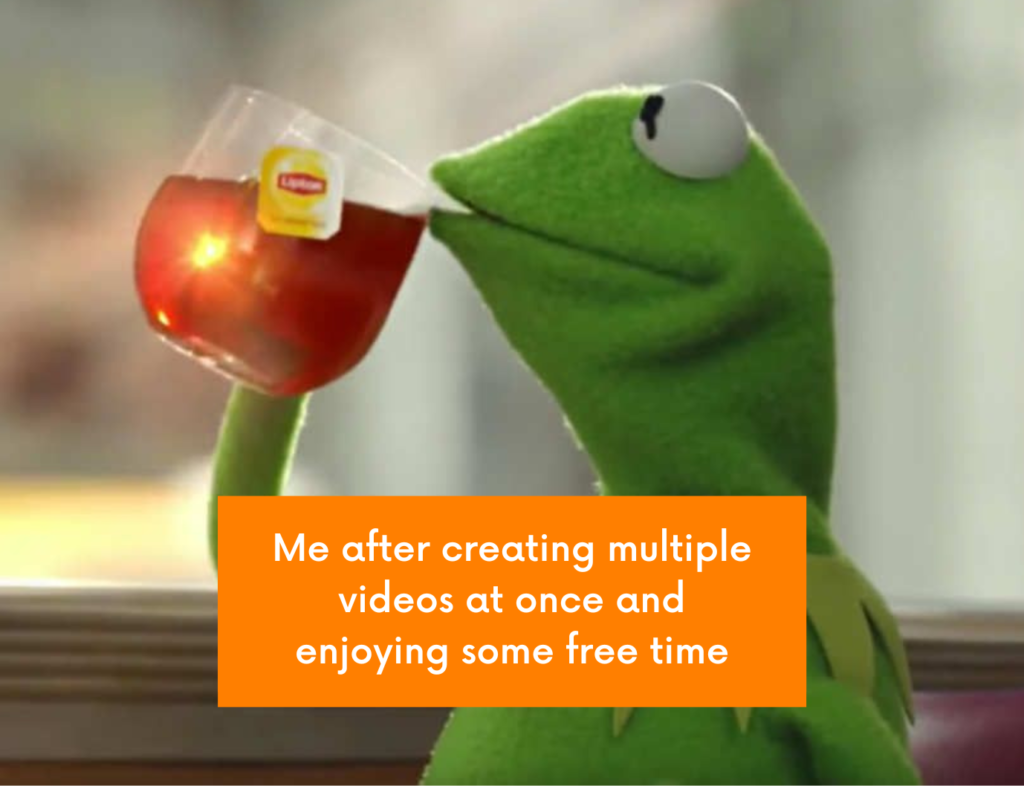 Here is an easy-to-follow process to help you fill your content calendar faster through batch video content creation.
Let's jump right into it!
How to batch create videos?
1. Brainstorm content and video ideas
Start by brainstorming video content ideas for your feed. You can even get some ideas by exploring your Instagram insights. Watch out for those posts with lots of love, or in other words, engagement. These are great to recreate and repurpose.
Take a look at what others in your industry are doing. This will not only give you some inspiration on other content ideas, but also insights on what is appealing to your audience and what isn't. And of course, don't forget to make it your own!
Write down all the important events that are coming up! Make sure you take notes on specific holidays and special dates your audience would like to see content on.
2. Define how many video you want
Now that you have all these ideas, it's time to define how many videos you need to batch create.
Let's say your goal is to be more consistent with your social media presence and share video content at least 4 times a week. Simply, multiply your weekly video content by the number of weeks you want to batch create in advance for.
For example, 4 x 4 = 16 videos for a month.
Now this might sound like a lot! But that's where batch video creation comes in.
3. Film your media
Next, it's time to film your video content, forget about allocating each video to a specific aspect ratio because our bulk creator will repurpose it for any social media platform you need.
If you don't have any media you can also resort to free stock video libraries to get the video content you need.
Don't forget to have a look at all the assets you've already created! They might come in handy at this point.
4. Batch create video content on our bulk creator
It's now time to get into batch video creation.
Log in to your WOXO account or sign for free! Click on Text to Videos to access our bulk creator and say hello to batch video creation.
This might be a bit overwhelming at first, but don't worry! Just take a minute to watch our short and sweet tutorial video that will guide you through.
You can start off by creating and editing all videos at once or to make this first experience a bit easier, start by creating in smaller batches, so for example start by creating all your product demo videos first.
When you're done editing, just download all your videos and you'll be ready to start scheduling. Last but not least, we've got a friendly reminder to stay organize! When it comes to batch video creation it's easy to misplace videos due to the amount of content you're creating.
5. Set up Your Content Calendar
Once you're done with batch video creation, the next step is to schedule your video content. If you want to further engage with your audience on a regular basis it's crucial that you schedule various posts across different channels in advance. By doing this, you'll save time!
There are many tools that can get the job done! We suggest you try Hootsuite or Sprout Social to begin. The only thing you'll need to do is upload your content, write video captions, hashtags and add tags and voilà!