There are mainly three ways to use your TikTok to grow your business. First, we have the usual Tiktok Ads. But you can as well use the power of the influencers or become one yourself and boost your profile! Here we'll analyze each one so you can choose the best one for your business.
What is TikTok?
Many are already familiar with this popular app. However, if you still don't know, TikTok is a modern social network where you can share short videos of up to 60 seconds in length.
After Vine disappeared in 2020, TikTok has taken over and has more than 1 billion users. This has turned it into the world's most popular humor video platform. You can also find popular features, like filters and communities revolving around hashtags and influencers. Since it's a Chinese company, TikTok has appeared in the headlines due to political tensions. Here we will only analyze its potential as a marketing tool and what are the different ways to grow your business on TikTok.
What's the typical TikTok audience like?
TikTok is famous for being the social network of Generation Z. When we look at the usage statistics reveals that most of its users are between 10 and 19 years old, followed by people between 20 and 29 years.
Nevertheless, the platform can also be useful for brands aimed at other demographic groups, depending on the product and target group.
Ways to grow your business on TikTok: Tiktok Ads
How to create an ad account on TikTok
Firstly, begin by creating an account through TikTok Ads. You'll have to provide basic information and wait for a Tiktok's representative response to confirm your account.
Once it's approved and running, you'll be able to create ads and campaigns as well as set the following elements:
Objective: is your goal to generate traffic, get conversions, or get installations? Depending on it, you can optimize your group of ads by conversion, click, or impression.
Segmentation: divide your users by location, year, gender, language, interests, and device.
Length of the campaign: The number of days it will last.
Payment information: set a daily spend limit and your total spend limit (beware, there is a minimum of 500 dollars). You will also choose the pace at which you want your budget to be paid: standard or accelerated.
Types of Ads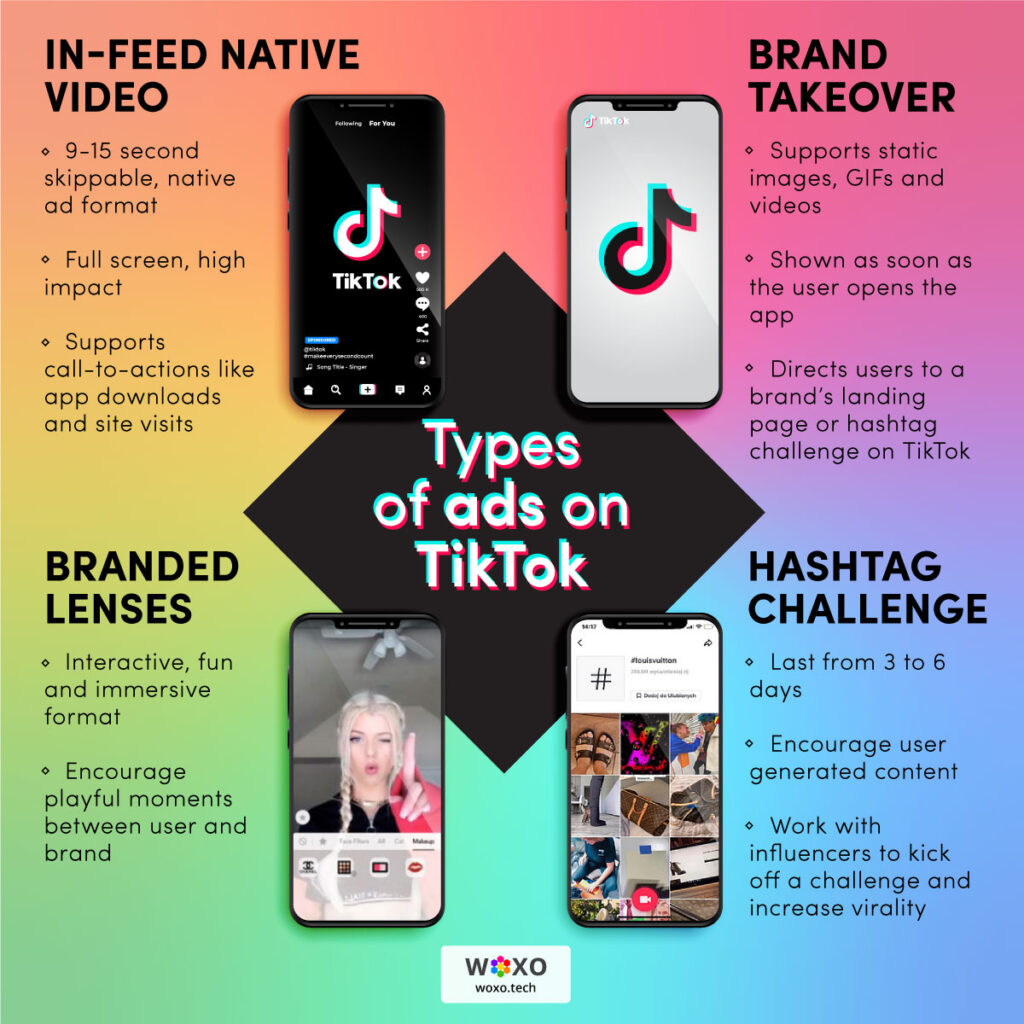 Native Video Ads
In-feed native video ads are just what the name describes: native video. These are videos shown before a video uploaded by a user of the platform starts – just like the ads on YouTube! The main difference is that TikTok always gives the user the option to skip the ad, no matter if they have a 'premium' account or not.
Brand takeover
These are one of the most exclusive ads on TikTok. These are the kind of ads that take up the entire screen and are shown as soon as the user opens the app.
Branded lenses
These are basically filters that users can use in their videos. This is the same approach as Snapchat and Instagram filters; with filters, the brand positioning in a more indirect way than an ad.
Hashtag challenge
Similar to Instagram, TikTok uses # here and there. The brand can either propose a hashtag for a category, inviting the TikTok community to make their own videos, or creatively join one. These type of sponsorships last between 3 to 6 days and you can find them on the Discovery tab.
Ways to grow your business on TikTok: Influencers
Last but not least, like Instagram, Youtube and Facebook, TikTok revolves around influencers' phenomenon. There are star users who attract thousands of views and followers in each category and suddenly can be very attractive to brands. Many brands have already tried and succeeded with this strategy.
It's essential that if you are going to, it should be someone who fits with your product category and who has an audience interested in buying similar things to what you offer. Take your time and do your research about niches and how the TikTok community works. This can take a bit of time but also lead you to the right results. Which is better than paying a massive amount of money to an influencer with 1M followers, but who's wrong for your audience.
Ways to grow your business on TikTok: Boost your profile
You can opt to create a few different TikTok accounts— ones mainly for testing and a main one to build your brand. Make sure that your official brand account has a logo, bio description and link to your Instagram page and YouTube channels (if you have one).
Start by posting content and seeing how users react and following popular Tiktokers and # to find inspiration and see what's trending. 
Which one should you pick?
As is not an easy and same answer for everyone, it depends on several factors:
Your users and potential audience.
Your product type and category.
Your budget for ad campaigns.
Depending on these variables, starting a marketing campaign on TikTok may be a great marketing strategy, or simply take away resources and time that you could have used for a better option. We must also pay attention to news on TikTok's entrance into the ecommerce world and allow brands to sell their products directly through the app, as is already possible with Instagram. We recommend always testing and see how it goes before saying no altogether.
We hope this article has been helpful — or at least entertaining! Remember that you don't have to have an expert to create a great video. Check out WOXO's Video Maker to get started for free